If you're a veterinary clinic, boarding facility, grooming salon, animal shelter or other cat-centric business looking for a durable, modern solution to your cat housing needs, look no further than the elite cat townhouses from The Cat's Inn.
Coming in at 7 feet, 7 inches in height and handmade with an odor-eliminating, moisture-resistant melamine interior, our wooden cat condos will impress business owners and their cats alike.
Our spacious wooden cat adoption units are designed to allow cats to live a happy, healthy lifestyle for as long as they're boarding.
Commercial cat condos from The Cat's Inn are built to give cats the sense of privacy, freedom, and security they need to lead a balanced, fulfilling lifestyle for the duration of their stay at your facility. Each unit boasts six levels for cats to explore and lounge in, connected by easily maneuverable, built-in steps to accommodate kittens and cats of all ages and health conditions.
This 28-square-feet of living space includes a secluded bottom floor for private litter box use and a hideaway relaxation area, along with upper levels that give cats an open, high-ground view of their surroundings through tempered glass panels. The layout of our luxury cat towers provides their feline residents with plenty of stimulation, room to stretch out, and access to the privacy they need to feel secure.
Commercial townhouses from The Cat's Inn are equipped with features that make them a convenient, attractive lodging option for all types of cat businesses.
In addition to a melamine interior that minimizes odor and moisture, every one of our cat adoption units is constructed with our patented ventilation system to prevent the spread of odor and airborne disease to your cats, employees, and patrons. Ventilation ducts are located along the bottom and can be conveniently arranged side-by-side to create a unified ventilation setup, ideal for maintaining the circulation of fresh air in shelters and boarding facilities with high capacities.
Each unit offers additional options for customization, including glass back panels, tinted glass, pass-through doors between units, a choice of oak or maple exterior, and comfort-enhancing cat accessories. Our commercial wooden cat kennels are also available in stackable units, still equipped with all of our premium features, with a compact design perfectly suited for commercial locations with more limited space.
To learn more about how our commercial wooden cat townhouses can elevate the quality of your cats' lives while giving your business an upscale look, contact The Cat's Inn today. We'd be happy to answer your questions and provide you with the elite cat housing you need!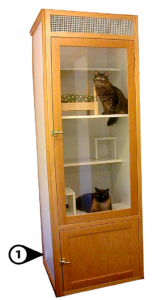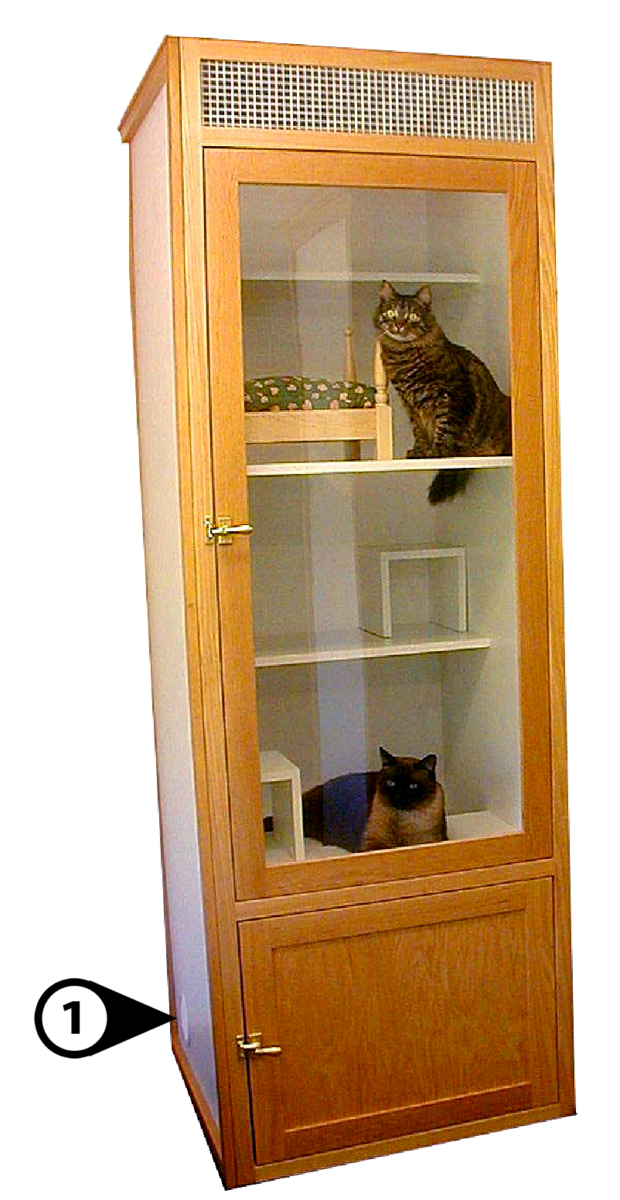 Dimensions:
Height: 7'7″
Width: 30″
Depth: 30″
6 levels for a cat to explore
Total of 28 square feet for flat living space.
Ventilation duct outlets are located on each side of the townhouse. When placed side by side, this creates one ventilation passage to remove air borne diseases and odor.
6th level gives cats the height that they crave  to view their surroundings.
Steps make it easy for kittens and older cats to maneuver from level to level.
3rd

level dining and lounge area.

This area houses the litter box with the ventilation system and a 2nd

level hide away for cats to get away without being in the litter box. Also included is the storage area for each cats personal belongings. All hidden behind a solid door to provide the privacy that cats thrive.
Options: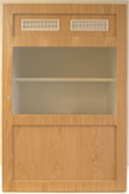 Our stackable unit is also available in melamine trim! – read more
Get More Information About Our Cat Townhouses