The needs of a cat-related business are unique. Shelters, clinics, breeders, groomers, and others who lodge cats on a regular basis require safe, durable housing structures to accommodate all of their feline residents.
Functional cat housing for these businesses should be adapted to a commercial setting without sacrificing the health or comfort of any cat. The townhouses we craft at The Cat's Inn are designed exactly to meet these criteria.
Commercial Cat Townhouses with Customizable Design
Our classic townhouse model stands 7-foot-7-inches in height, offering cats six spacious levels to explore from top to bottom. The goal is to give cats the opportunity to climb up and down for different perspectives or to find a comforting spot away from visitors or housemates. Each townhouse unit can sufficiently accommodate up to three cats, and also features a secluded litter box area at the bottom.
Constructed with thermally fused, commercial-grade melamine interiors, all of our shelters are scratch-resistant and easy to clean. Commercial cat houses from The Cat's Inn are available in a wide range of colors and several different exterior designs—your choice of oak, cherry, or maple hardwood with a melamine or medex trim.
Our stackable commercial cat townhouse offers many of our premium features in a convenient compact design, well-suited to new, growing businesses or those with limited space.
The stackable townhouse features four levels designed to accommodate a single cat with a combination of secluded areas to relax, and elevated open space with clear lines of sight. These units are 45.5 inches tall and available in the same custom colors and exteriors as our full-sized townhouses.
Specially-Designed Commercial Cat Shelter Towers
In addition to our standard and compact cat townhouses, The Cat's Inn also offers cat towers specifically constructed with animal shelters in mind. Each of these structures is built with the same moisture-resistant, commercial-grade melamine interiors as our townhouses, as well as a medium-density fiberboard paneled exterior.
Our animal shelter towers are mounted on lockable swivel caster wheels, allowing them to be easily placed or moved when and where convenient. Air vents are located at the top and bottom of the doors on each individual unit, to guarantee conditions remain safe, healthy, and pleasant for resident cats, humans, and customers alike.
The Cat's Inn has two commercial shelter models available to choose from based on the individual needs of your business.
At 5.5 feet in height, our 4001 model offers three areas per one-cat unit for cats to play and lounge, as well as a secluded litter box area. Our 4003 model features the same design, with the bottom level replaced with extra storage space for litter, food, and other supplies.
To learn more about our individual townhouse models and their customization options, read through our website for further details or contact The Cat's Inn directly. We will be happy to answer your questions and help you determine which commercial cat townhouse, condo, or tower is right for your business!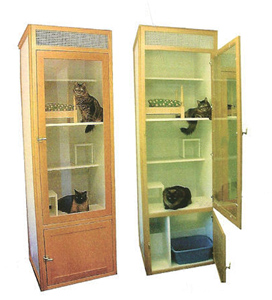 Dimensions:
Height- 7'7″
Width- 30″
Depth- 30″
6 levels for a cat to explore
Total of 28 square feet of flat living space
Options:
Glass Backs
Tinted Glass
Pass Through Doors
4 Poster bed in oak, cherry or maple with washable mattress

Dimensions:
Height- 45.5″
Width- 30″
Depth- 30″
4 levels for a cat to explore
Total of 14 square feet of flat living space.
Options:
Glass Backs
Tinted Glass
Pass Through Doors
4 Poster bed in oak, cherry or maple with washable mattress