Built with our signature odor-proof, commercial-grade melamine interior design, the hardwood trim commercial cat townhouses from The Cat's Inn are an attractive and innovative housing option for cat-boarding facilities of all kind. Our wooden cat shelters offer an appealing, polished look for business owners and patrons, and a high standard of comfort for their feline residents.
Commercial wooden cat condos from The Cat's Inn provide a safe, spacious, and soothing environment for cats to thrive in.
If you're a veterinary clinic, grooming salon, animal shelter, or other boarding facility, we understand that your number one priority is the health and happiness of the cats you're housing. Our hardwood cat adoption units are an affordable solution that you can feel good about, knowing your cats have plenty of room to play, relax, and enjoy a quality lifestyle for as long as they're there.
The hardwood trim cat townhouse model stands 7-foot 7-inches tall and boasts six sizable levels for your cats to roam and explore. From top to bottom you'll find this elite commercial enclosure offers cats an open look at their surroundings, lounge areas to interact with other cats or unwind, and secluded areas to provide coveted hideaway spaces and private litter box use.
With convenient built-in steps to take cats from one level to the next, The Cats Inn's hardwood trim commercial condo is easy for kittens and cats of all ages and conditions to navigate and enjoy.
Our wooden cat adoption units come equipped with a patented, state-of-the-art ventilation system to keep your business space and your cats' living environment fresh and sanitary.
Part of the challenge of housing cats in a commercial setting is the upkeep required to maintain a healthy living area, and prevent airborne illness and odor from affecting your cats or customers. The one-of-a-kind ventilation system we've designed at The Cat's Inn solves this problem, by keeping fresh air circulating to remove foul odors and bacteria before you or your cats even know they're there.
Our wooden units can be placed side-by-side to create an in-line ventilation setup that will keep any number of units free of airborne germs and odor. This streamlined ventilation system, combined with a 28-square foot living space per unit that can comfortably accommodate up to three cats at once, makes our wooden cat condos suitable for feline care businesses of any size or capacity.
The Cat's Inn's hardwood paneled cat adoption units can be customized with a number of exclusive features, including:
Oak, cherry, or maple exterior finish
Full-glass backing
Tinted glass
Pass-through doors for cats to travel between units
Comfortable cat living accessories
For more information on our commercial wooden cat enclosures, call The Cat's Inn at 877-228-7466 today. We'll be happy to help you choose the best cat shelter models and features for your business and provide you with a custom quote!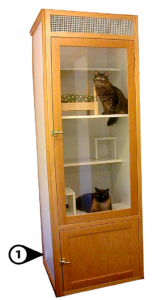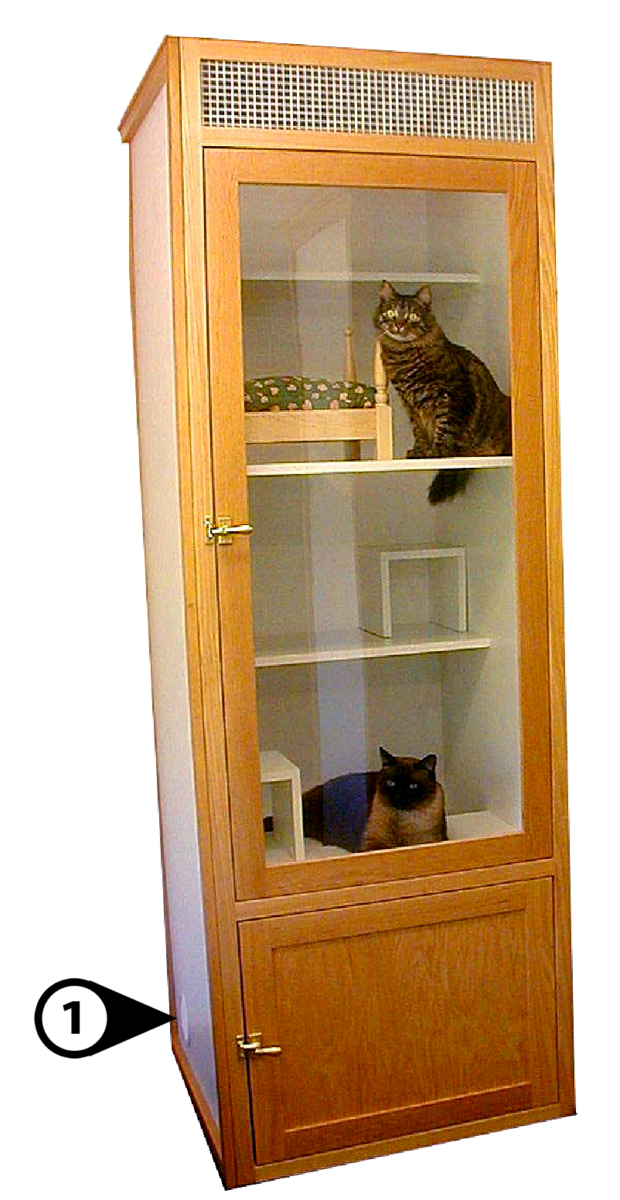 Dimensions:
Height: 7'7″
Width: 30″
Depth: 30″
6 levels for a cat to explore
Total of 28 square feet for flat living space.
Ventilation duct outlets are located on each side of the townhouse. When placed side by side, this creates one ventilation passage to remove air bourne diseases and odor.
1. 6th level gives cats the height that they crave to view their surroundings.
2. Steps make it easy for kittens and older cats to maneuver from level to level.
3. 3rd level dining and lounge area.
4. This area houses the litter box with the ventilation system and a 2nd level hide away for cats to get away without being in the litter box. Also included is the storage area for each cats personal belongings. All hidden behind a solid door to provide the privacy that cats thrive.
Options: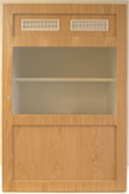 Our stackable unit is also available in melamine trim! – read more
Get More Information About Our Cat Townhouses