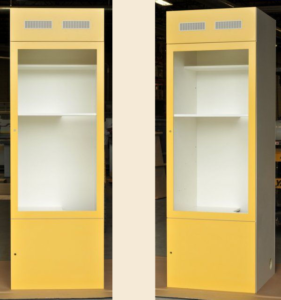 Here at The Cat's Inn, we cater our designs to the needs of cat business owners as well as the cats they're housing. That's why we make our commercial wooden cat townhouses available with a versatile medex trim, complete with all of the top-quality features that make our enclosures an ideal place for cats to thrive.
With our elite cat towers, there's no need to choose between function and style. Our medex front option can be designed to fit the look and complement the décor of any business.
Attractive Commercial Cat Housing for Boarding Facilities
Cat lodging is not a one-size-fits-all concept. Although businesses may share a common need for durable, reliable feline accommodations, they're not necessarily operating with the same clientele in mind. Equipped with the same great interior design as the other commercial cat townhouses from The Cat's Inn, our medex trim towers can be adapted to suit a wide range of businesses, including shelters, clinics, salons, kennels, and more.  
Each 7-foot, 7-inch unit offers 28 square feet of living space across six levels for cats to play, exercise, nap, and relax. Conveniently placed steps between levels make every area easily accessible for young kittens, elder cats, and all cats in between. The secluded bottom level offers cats an out-of-sight lounging area and private litter box space, while the top levels offer various elevated viewpoints to enjoy of their surroundings.
All commercial cat enclosures from The Cat's Inn are built with a first-class ventilation system to facilitate a free flow of fresh air, and eliminate airborne bacteria and litter box odors. Towers are also lined with a melamine interior, which allows for additional odor and moisture absorption and easy cleaning and maintenance.
Each unit also features The Cat's Inn's patented ventilation system (No. 6,318,295 b1) which removes airborne diseases and bacteria as well as litter box odors. Constructed with a melamine interior that is easy to clean while also preventing absorption of odors and liquids, these cat townhouses are available in 70 colors to match the décor of any room in your clinic, shelter or cat-related business.
Customizable Wood Cat Cages
Our commercial wood cat tower model with the medex front has the distinct advantage of being available in 70 different colors. Customize your cat enclosures to match any room or area in your clinic or facility without disrupting the visual atmosphere you're trying to achieve.
The medex trim cat townhouse can be further customized with the same premium features we offer for our other models, including:
All-glass back panels to give cats more visual access
Tinted glass to minimize excess light in a sunny room
Pass-through doors to give cats access to adjoining units
Cute, comfortable accessories such as our four-post cat beds, mattresses, and pillows
When it comes to comfort, convenience, safety, and security, there is no better option than a commercial cat tower from The Cat's Inn. Give us a call at 877-228-7466 or reach out to us online so we can fit you with the right townhouses for your commercial location and get you started with a quote!
Dimensions:
Height – 7'7"
Width – 30"
Depth – 30"
Six levels for them to explore with a total of 28 square feet of flat living space that can hold up to three adult cats or more if they are younger.
Check out our stackable unit too!
Options:
The medex fronts are available in 70 colors to meet the décor of any room
1. 6th level gives cats the height that they crave to view their surroundings.
2.Steps make it easy for kittens and older cats to maneuver from level to level.
3. 3rd level dining and lounge area.
4. This area houses the litter box with the ventilation system and a 2nd level hide away for cats to get away without being in the litter box. Also included is the storage area for each cats personal belongings. All hidden behind a solid door to provide the privacy that cats thrive.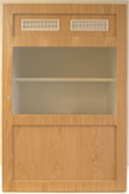 Our stackable unit is also available in melamine trim! – read more
Get More Information About Our Cat Townhouses